Laufenn Launches Rebate Program for Passenger, CUV / SUV and Light-Truck Tires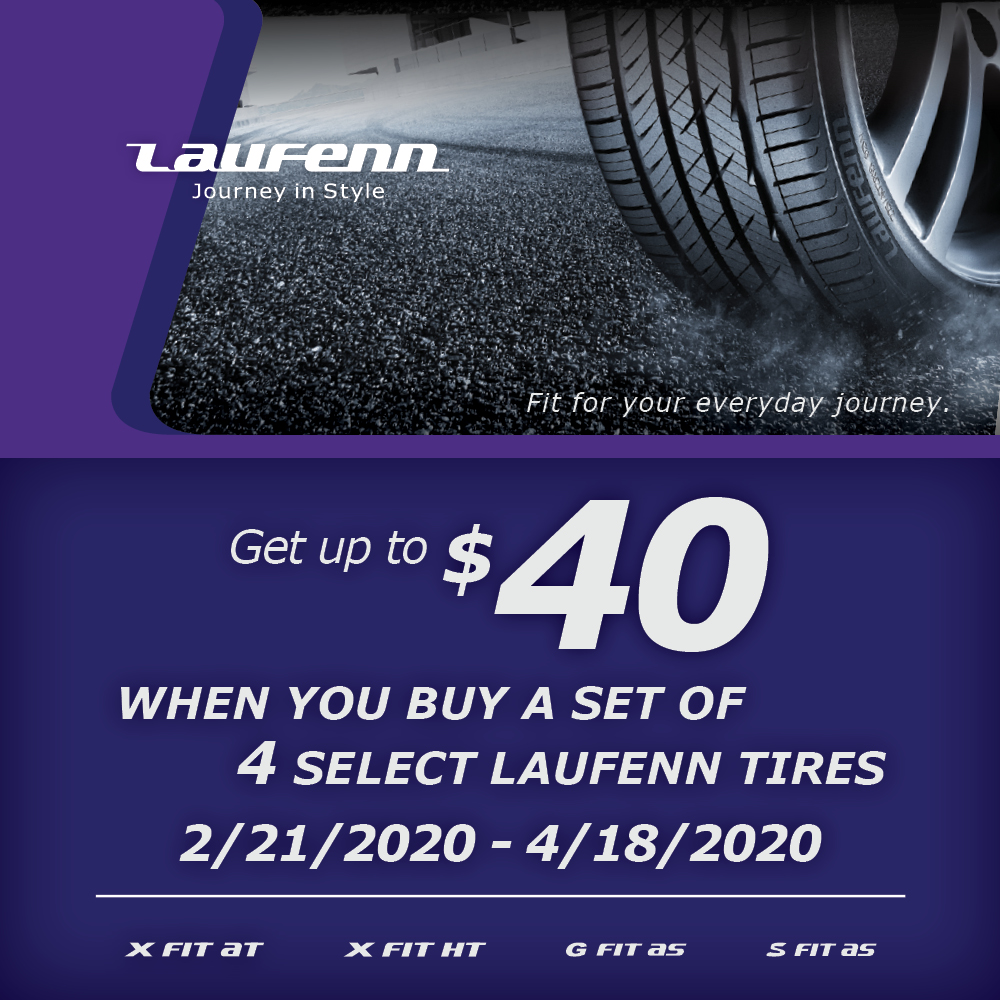 NASHVILLE, Tenn. (Feb. 27, 2020) – Today, Laufenn introduces its first U.S. rebate program, offering consumers savings on its most popular passenger, CUV / SUV and light-truck tires. Consumers can save up to $40 when purchasing a set of four qualifying Laufenn tires between Feb. 21 and April 18, 2020.
The Laufenn brand has many exciting new features including an expanded warranty of up to 60,000 miles, a 30-day free trial on certain products and expanded road hazard coverage. The updated product portfolio now also includes 231 total SKUs, with 78 newly released sizes, which greatly expands the brand's coverage.
"This is an opportunity for consumers to get a set of quality Laufenn tires at an affordable price, and receive money back on their purchase," said Peter (YS) Jung, senior vice president and chief operating officer, Hankook Tire, which manufactures the Laufenn brand. "We are excited to give consumers an opportunity to save on four of our most popular tires, providing options for all drivers to experience comfort, efficiency and style."
Consumers will receive up to a $40 virtual or standard prepaid rebate Mastercard® with the purchase of qualifying Laufenn tires. Consumers can submit their rebate claim online at www.hankookrebates.com.
Qualifying tires that are offered through the 2020 mail-in rebate include:
Laufenn S FIT AS (LH01) $30 Rebate – The S FIT AS (LH01) is Laufenn's ultra-high-performance all-season tire and offers top-of-the-line driving capabilities and optimal fuel economy.
Laufenn G FIT AS (LH41) $30 Rebate – Laufenn's G FIT AS (LH41) is a touring all-season tire, designed for smart drivers looking for optimal driving performance. It also is an ideal choice for comfort and fuel efficiency.
Laufenn X FIT HT (LD01) $30 Rebate – Designed for CUVs / SUVs and light truck on-road conditions, Laufenn's X FIT HT (LD01) performs well in all seasons and offers exceptional comfort for an optimized driving experience.
Laufenn X FIT AT (LC01) $40 Rebate – The Laufenn X FIT AT for SUVs and light trucks, is optimized for on- and off-road conditions. This tire has impressive traction and improved capability resulting in outstanding performance no matter the terrain.
For more information, please visit the Hankook rebate site at www.hankookrebates.com.