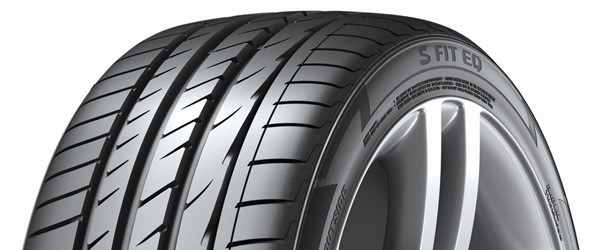 With its new brand Laufenn, tyre maker Hankook aims to provide the most practical values consumers seek with a range of products to meet various lifestyle needs for price conscious motorists across their European region. The brand's available summer tyre line-up consists of three patterns, each one for the performance, Laufenn S FIT EQ, the touring Laufenn G FIT EQ and the Van-segment Laufenn X FIT VAN.
The new Laufenn brand product line-up recently launched by premium tyre maker Hankook is now available on the European market. Starting in the passenger car and SUV summer tyre segment, the Laufenn line-up offers high quality products to meet the demands of consumers seeking value, quality and style. The three new summer products are developed especially for the regional market's needs and road conditions, aiming to serve smart and price-conscious consumers with a well-rounded range of quality products which fit a variety of lifestyle needs.
The Laufenn S FIT EQ for the performance segment comes equipped with an advanced aqua hydro block tread design, which in combination with its four straight main grooves and a streamlined tread block orientation provides highly efficient hydroplaning prevention. Drainage supporting block edges and a high performance polymer tread compound further support the tyre's wet braking and handling abilities. In addition to the asymmetric tread design, the Laufenn S FIT EQ provides optimised performance and good stability in dry handling conditions with the application of tie-bars ensuring greater block stiffness. The installment of a straight, solid tread rib at the outside shoulder helps to increase lateral stability as well as further reduces the tyre's road noise levels. Furthermore a folded belt edge tape has been incorporated between the 2 tread belts for an improved handling performance at higher speeds.
Designed specifically for the touring segment, the Laufenn G FIT EQ has been developed with a 4 rib tread design incorporating centre rib kerfs with optimised depths, helping to provide a smooth and quiet drive across various road conditions. These specially adapted center groove sipes allow for faster water drainage and together with kerfs applied on the blocks of the inner shoulder overall improve the tyres wet performance. A special base compound under the tread layer helps to reduce the Laufenn G FIT EQ's rolling resistance providing high fuel efficiency. The optimised tyre contour supports a more even wear through the equal weight distribution over the entire pattern width. In combination with the adaption of a hybrid tread compound, the G FIT EQ will be able to provide a longer tread life whilst the adaption of tread blocks with a variable stiffness ensures minimised vibration and low noise levels, ensuring an overall improved riding comfort.
In order to cover a larger variety of vehicles with Laufenn tyres, the brand's line-up incorporates a pattern for the commercial vans. The X FIT VAN provides secure driving stability and durability through a special rubber material, enhancing its structural coherence. Together with the double layer carcass construction and the adaption of a reinforced cover belt driving stability is improved, which is essential for sustaining heavier vehicle loads with its square shape foot print design providing better road contact. Together with the adaption of a special tread compound the X FIT Van provides a long mileage and good fuel efficiency. The tyre's centre ribs are equipped with 3D lateral grooves and 3D block edges to provide good traction and braking performance in both wet and dry conditions without sacrificing tread block strength. These center rib sipes help to minimise the block movement thus providing an excellent steering stability.
About Hankook Tire
Hankook Tire is one of the global top 5 companies in the mass production of tyres and manufactures innovative, award winning radial tyres of proven superior quality for passenger cars, light trucks, SUVs, RVs, trucks, and buses as well as motorsports (circuit racing/rallies).
Aspiring to bring consumers the utmost excellence in product quality, technological excellence and driving satisfaction, Hankook Tire continuously invests in research and development maintaining five R&D centres and seven production facilities around the world. Bespoke tyre solutions for the European markets as well as European Original Equipment according to the requirements of leading premium car manufacturers, are developed in the company's regional Technical Centre in Hanover/Germany. Production for the European region is taking place in the state-of-the-art manufacturing site in Rácalmás/Hungary which was inaugurated in June 2007 and is continuously being expanded. Currently more than 3,000 employees produce up to 19 million tyres a year for passenger cars, SUVs and light trucks.
Hankook Tire's European headquarters are located in Neu-Isenburg near Frankfurt am Main in Germany. The manufacturer operates further branches in Germany, UK, France, Italy, Spain, the Netherlands, Hungary, Czech Republic, Russia, Turkey, Sweden and Poland. Hankook products are sold directly through regional distributors in other local markets. Hankook Tire employs more than 22,000 people worldwide and are selling their products in over 180 countries. Internationally leading car manufacturers rely on tyres made by Hankook for their original equipment. Approximately 30 percent of the company's global sales are generated within the European and CIS-Region.
For more information please visit www.hankooktire-press.com or www.hankooktire-eu.com