All-Season Multi-Performance Tyre
The G FIT 4S is the ideal choice for drivers looking for exceptional performance, value and safety all year-round, whatever the weather.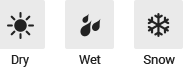 Feature
Hybrid performance for dry, wet and snowy roads : Optimal driving performance in all weather conditions.
Multi-Safety performance for braking and steering : Ensured safety with improved grip and braking, optimising.
High Grip Silica Compound :
Improved grip and handling on wet roads.