HANKOOK TIRE CANADA OFFERS ADDITIONAL SAVINGS WITH THE 2017 HANKOOK SPRING REBATE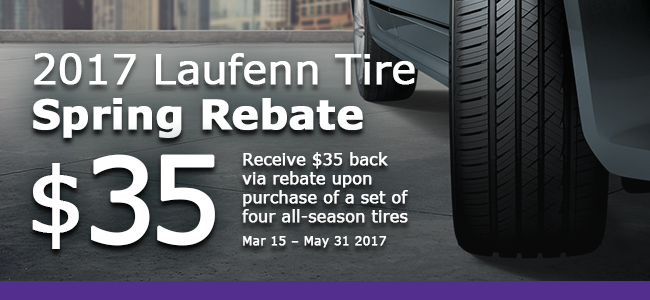 BRAMPTON, ON – November 9, 2016 - Hankook Tire Canada Corp. (www.hankooktire.ca) is pleased to announce the 2017 Hankook Spring Rebate being offered to Canadian consumers. The rebate is available to all Canadian residents and is offered to consumers for a limited time on all replacement tires from Hankook including Ultra-High Performance tires such as the S Fit AS (LH01), the popular G Fit AS (LH41) and theX Fit AT (LC01). Consumers who purchase Laufenn brand tires will also be eligible for a rebate.
To ensure eligibility, consumers must purchase a new set of four (4) all-season tires from participating retailers in Canada between March 15th and May 31st of 2017. Select patterns and specific reimbursements are listed below:
S FIT AS (LH01) $35
G FIT AS (LH41) $35
X FIT HT (LD01) $35
X FIT AT (LC01) $35
* All rebates are eligible on purchases of a set of four (4) new tires.
Consumers are required to complete the appropriate claim form and submit it along with the original proof of retail purchase on, or before, a postmarked date (or equivalent) of no later than 11:59:59 PM, June 30th, 2017. As per the rebate program rules and regulations, acceptable proof of purchase formats include original invoices, purchase receipts, or equivalent bill of sales.
Eligible consumers will receive a rebate in the form of a prepaid credit card within eight (8) to ten (10) weeks from the claim document receipt date if all qualifications are confirmed and conditions are met. For additional information, please contact hankooktirerebates@360insights.com.
Laufenn Tire is expected to support the promotion with a fully-integrated marketing communications program, including but not limited to advertising, public relations, social media, in-store displays and a special retailer incentive program.