What is the 'LAUFENN 30 Day Satisfaction Guarantee Program'?
Purchase a set of four (4) LAUFENN tyres and if you are not satisfied with the performance, we will exchange it for a new set of Laufenn / Hankook tyres for the equivalent value
of the original tyres purchased.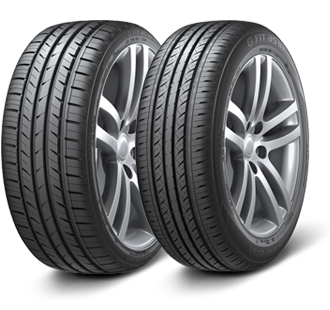 Where to get the LAUFENN 30 Day Satisfaction Guaranteed tyres?
Visit any participating dealers to purchase a set of four (4) LAUFENN tyres
to enjoy the peace of mind 'LAUFENN 30 Day Satisfaction Guarantee Program'.
Eligibility
Tyres must be returned to the original place of purchase within 30 days from the date of purchase
or before 1,000 kilometres usage, whichever applies first, to redeem this offer.
Exchange Terms and Conditions
A customer who purchases a set of four (4) LAUFENN tyres under a qualifying transaction
has to return the tyres for an exchange within a period of 30 days from the date of purchase
if he/she is dissatisfied with the performance of the tyres.
Exclusions and Limitations
A customer will not be entitled to an exchange under this Program if the tyres:
Are damaged due to misuse or misapplication
Are damaged due to road hazard damage
Are damaged due to excessive use during the 30 day period of ownership
Are damaged due to punctures caused by theft, natural disaster or neglect
Are damaged due to mechanical problems relating to the vehicle
Are damaged or excessively worn from any racing-related, race circuit activities or competitive events
Could have been purchased at a lesser price than the price at which they were purchased by the customers
Fleet, trade and wholesale purchases are excluded and will not qualify for an exchange
Fitting cost (max. $15/tyre, max. total $60/set of four (4) tyres) will be credited to the dealers
Customer Obligations
Original sales receipt must be shown as proof of purchase and a copy needs to be attached to claim for an exchange.
This "LAUFENN 30 day Satisfaction Guarantee Program" is applicable only in Australia. No representative or Dealer has authority to make any representation,
promise or agreement on behalf of hankook Tyre Australia Pty Ltd except as stated herein.
For further details please see the instore brochure at your nearest participating stores.